EcoShield'sTM Aqueous Cleaner Recycling System

Application Notes and Process Flow Chart

What it Does for Your Cleaning Process

The EcoClean ACRS reactor system chemically modifies organic oily contaminants, permanently, turning them into surfactants and emulsifiers, thereby increasing the cleaning solution's ability to remove more oil, grease and dirt. The EcoClean ACR (Aqueous Cleaner Regeneration) systems regenerate aqueous cleaning solutions on site. Less watse water is generated. Less cleaning chemicals are required. Operational up time and throughput are increased.

Major Benefits

1.

Extends cleaning solution life.

2. Improves and stabilizes cleaning solution performance.

3. Reduces disposal costs.

4. Reduces chemical consumption, energy and maintenance costs.

Used cleaning solution is drawn from a nearby cleaning process reservoir and fed to a miniature internal reactor column. A self contained internal air cooled air compressor and ozone generator feeds ozone to the reactor column. The ozone reacts with organic contaminates in the reactor converting oleophilic organic contaminates into partially hydrophilic organic surfactants. By converting these oleophilic compounds into new surfactants, the surfactant concentration of the recycled cleaner is stabilized by replacing surfactants lost to solution dragged out on parts. In some cases the surfactant concentration increases resulting in the formation of a superior emulsion cleaner.

Applications

The EcoClean ACR System is appropriate for systems, using an aqueous cleaner with neutral to basic pH, where organic based soils are being removed from parts. Standard ACRS-SPW series units have a maximum liquid input temperature of 120 F. An optional upgrade to 140 F maximum is available (ACRS-SPW-MT). Operating temperatures up to 180 F are also available if needed (ACRS-SPW-HT-SS).

Installation Requirements

All that is required to install one of these units is to mount it near the cleaning process reservoir tank and near a 110 volt electrical service (it comes with a plug and cord installed but can be hard wired to the conduit fitting that is included on the control panel). There are three bulkhead fittings at the bottom of the units. These bulhead fittings are used for connection of the used cleaning solution feed supply to the internal pump. A treated cleaning solution return line connection and an overflow / vent return line are also connected. These can be plumbed with Polyethylene tubing, hard plastic pipe or stainless steel tubing at your discretion.

Maintenance Requirements

The system includes its own pump, pressure switch to protect the pump from damage in case of loss of prime, a timer startup circuit for priming the pump, and an interlocking pressure switch to ensure that air and water are flowing before the ozone generator is allowed to power up. Also included are anti-siphon backflow prevention check valves to protect the ozone generator and air compressor. Independent on / off switches with power on indicator lights for the cleaning solution pump and ozone generator are also standard.

Operating Costs

Operating cost is under 5 cents per hour.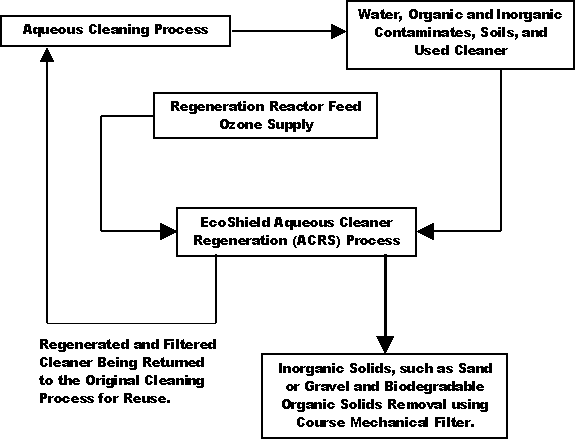 ---
Telephone

877-326-7443

Fax

877-326-9090

Postal address

P.O. Box 1476, Houston Texas, 77251

Electronic mail

General Information, sales and support: ecoshield@ecoshieldenv.com
Webmaster: ecoshield@ecoshieldenv.com